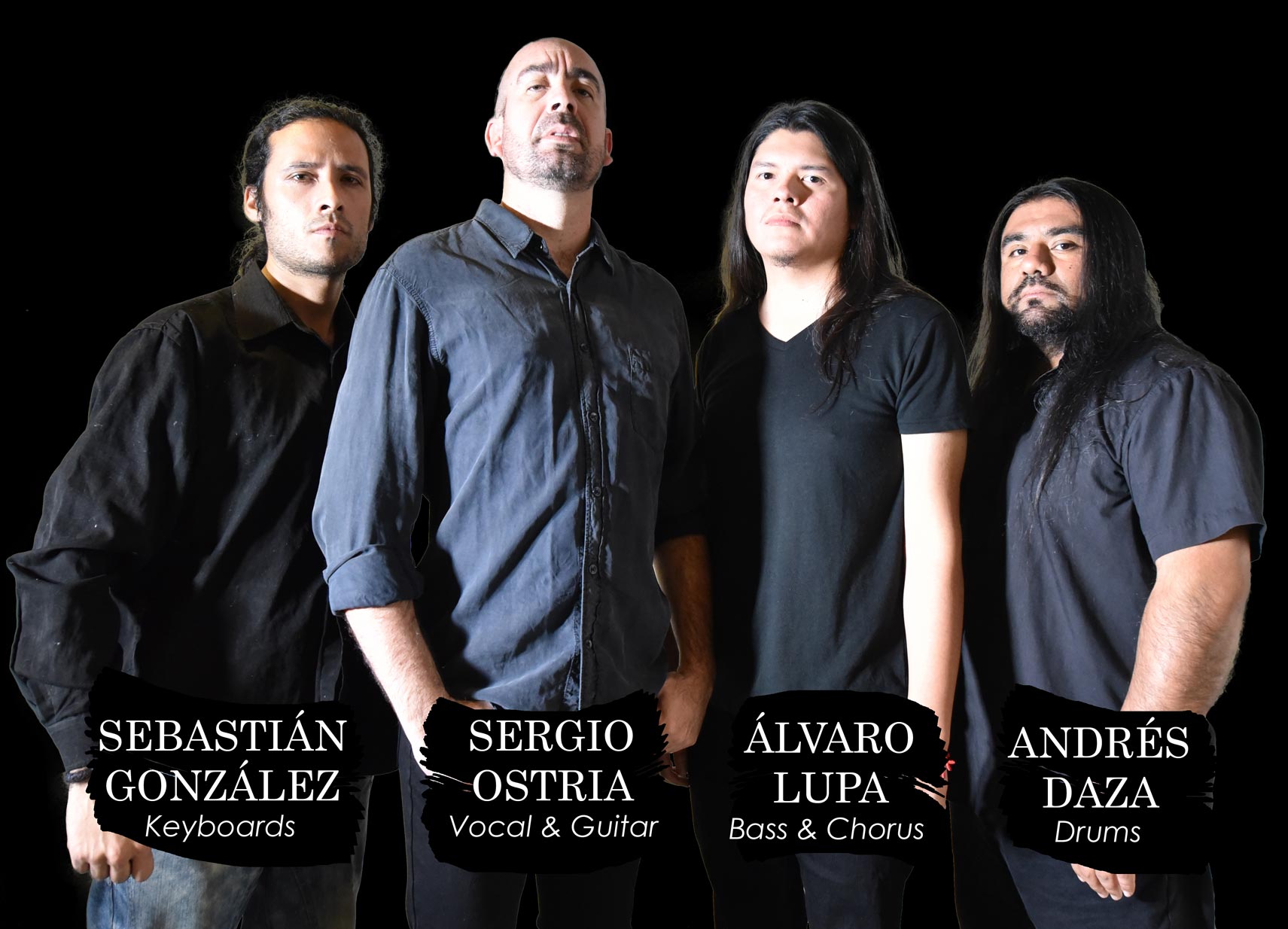 AysenluR has its genesis in the mid-1997 in Iquique, Chile, after Sergio Ostria, guitarist and founder of the band, to conduct a relentless search to find the true category, a feature that would later be central to achieving the objectives. During the second part of 1999, as a result of an independent production which consisted in the recording of three songs, AysenluR brings out its first demo, called "Sacred Justice", having great answer from part of national critic. || AysenluR tiene su génesis a mediados del año 1997 en Iquique-Chile. Sergio Ostria, guitarrista y fundador de la banda, convoca a diversos músicos de la escena local, considerando alcanzar múltiples objetivos, tanto en el corto como largo plazo. Es así que durante el segundo semestre del año 1999, AysenluR saca al mercado su primer demo titulado "Sacred Justice", maqueta de sello independiente que contó con 3 temas, recibiendo una muy buena acogida por parte de la crítica nacional.
In April of 2003, the band is invited to participate in the International Mega Fest, carried out in Arica – Chile, the perfect chance to put out a live production, which would be available that same year. Finally, "Live At International Mega Fest" was its title. Then, it was time to take its music to foreign lands, and that's how two years later, in 2005, AysenluR make its first appearance in Peru, where the band could feel a great answer from part of the audience. Months later,"Live In Peru" became the AysenluR second live production. || En abril de 2003, AysenluR es invitado a participar en el Internacional Mega Fest realizado en la ciudad de Arica-Chile, de este evento se grabó el primer disco en vivo de la banda denominado "Live At International Mega Fest". Dos años después, ya en el 2005, AysenluR sale por primera vez de Chile, en esta ocasión al vecino país del Perú en donde se logra concretar la segunda grabación en vivo de la banda titulada "Live In Perú", disco que contó con una muy buena aceptación.
In year 2006, AysenluR enter the studio in order to make its first full length production. So in that same year, the band enters to MSG studios where 7 tracks were recorded and produced. As result, AysenluR finally put out "Call To Arms", a mixture of all the band influencies joined by medieval and epic sounds combined with the hard and powerful sound of black metal, which always was the root of the band style. During 2007 and 2008, AysenluR would show all its work on "Call To Arms Tour", going from Iquique, Arica and Antofagasta in Chile; Tacna, Arequipa, Cusco and Puno in Peru, and Cochabamba and Santa Cruz in Bolivia. || Ya en el 2006, entran a grabar con MSG Studios a fin de sacar a la luz su primer disco larga duración titulado "Call To Arms", placa que consolida definitivamente a la agrupación, dejando en claro su distinta e innovadora propuesta musical. Durante el año 2007 y 2008, la banda sale de gira por Perú, Bolivia y el norte de Chile, en lo que se denominó "Call To Arms Tour", abarcando ciudades como Iquique, Arica, Antofagasta en Chile; Tacna, Arequipa, Cusco y Puno en Perú; y, Cochabamba y Santa Cruz en Bolivia.
As from year 2011 and after a reengineering within the band, AysenluR enter in a period of reflection and musical composition that is pointing to a revival in the style so far performed by the band, searching to capture the creation of a new record. In October 2012, with a new lineup, recorded Acoustic Session - "Sounds of Tarapaca" cutting documentary DVD music and conversation, in which the band shows its new face with a clear tendency Acoustic Folk Metal, marking a parenthesis in what they were doing, merging, and experimenting with new sounds ancestral. || A partir del año 2011, y luego de una reingeniería al interior de la banda, AysenluR entra en una etapa de reflexión y composición musical que apunta a un renacer en el estilo que hasta ahora realizaba y que, finalmente, busca plasmarse en la creación de un nuevo disco. En Octubre de 2012, con nueva alineación, graban Acoustic Session - "Sonidos de Tarapacá", DVD documental de corte musical y de conversación, en el cual la banda muestra su nueva faceta con clara tendencia Folk Metal, lo que marca un paréntesis en lo que venía haciendo, experimentando con nuevos y ancestrales sonidos.
During year 2013, started recording their fifth album, second studio record, entitled "Equilibrium – The Art of Existence", in this occasion under label Black flag Records. This Album embodies a self-styled music genre called Acoustic Folk Metal, something different from what was previously developed, returning to the origin of music itself. In June 2014 was released "Equilibrium – The Art of Existence", long awaited album by band followers, precisely due to innovative musical proposal. Now approaching to different audience, transversally, opening up new opportunities for the band. Late year 2014, and during whole 2015, AysenluR carried out an extensive album promotion, performing several shows in most important venues, such as Treatro Veteranos del ´79, Casa de la Cultura de Iquique and the prestigious Salón Tarapacá, among others. At the beginning of year 2016, they are elected, by popular selection, as the most representative band of Tarapacá zone in the National distribution compilation called "Catalogo de Artistas Chilenos" produced by Chilean Board of culture and Arts. || Durante el año 2013 entran a grabar su quinto disco, segundo de estudio, titulado "Equilibrium – The Art Of Existence", en esta ocasión bajo el sello de Blackflag Records. Éste álbum plasma un género autodenominado Acoustic Folk Metal, algo diferente a lo que venían desarrollando, volviendo al origen de la música propiamente tal. En Junio de 2014 sale al mercado "Equilibrium – The Art Of Existence", disco muy esperado por los seguidores, precisamente por lo innovador de la propuesta; logrando abarcar distinto público de manera transversal y abriendo nuevas vitrinas para la banda. A fines de 2014 y durante todo el año 2015, AysenluR realiza una exhaustiva promoción de su último álbum, presentándose en importantes escenarios tales como el Teatro Veteranos del '79, Casa de la Cultura de Iquique y el reconocido Salón Tarapacá, entre otros; además de diversas apariciones y participaciones en radios, televisión y prensa escrita. A principios del año 2016 son elegidos, por votación popular, como una de las bandas representantes de la región de Tarapacá en el compilado de distribución nacional denominado "Catálogo de Artistas Chilenos" producido por el Consejo Nacional de la Cultura y las Artes de Chile.
Between spring of 2016 and autumn of 2017, recording in Black flag Studio their sixth album, called "away from our lines" where they back to their music origins, with distorted and Avant Garde harmonies, along with an extraordinary vocal strength. In November of the same year album was released and consolidating its cooperation with Record label. || Entre la primavera de 2016 y el otoño de 2017, graban en Blackflag Studio su sexto álbum denominado "Away From Ours Lines", disco que vuelve a los orígenes musicales de la banda, con distorsionadas y vanguardistas armonías, y una colosal fuerza en la voz. En diciembre del mismo año el disco sale al mercado, consolidando la relación con su casa discográfica.
The history continues... || Durante el año 2018 la banda se dedica a promocionar su nuevo trabajo Away From Our Lines en diversos escenarios tantos locales, nacionales como internacionales, logrando posicionarlo como uno de los mejores discos del año según la crítica especializada, siendo invitados a participar de dos de los más grandes festivales del norte de Chile: Festival Rockalmonte y Metal Oasis Fest.
...at a wild gallop. || A comienzos de año 2019 son postulados para los Premios Pulsar Chile como mejor banda metal del año. En octubre del mismo año, lanzan un disco en vivo denominado "Away From Our Live", álbum que recorre la discografía de la banda, a partir de su último trabajo musical.